Traceability matrix is the best part of Requirement Yogi. It allows you to display the requirements in cascade in order to explore your dependencies and build any report you need.
Here's an example of matrix you can build: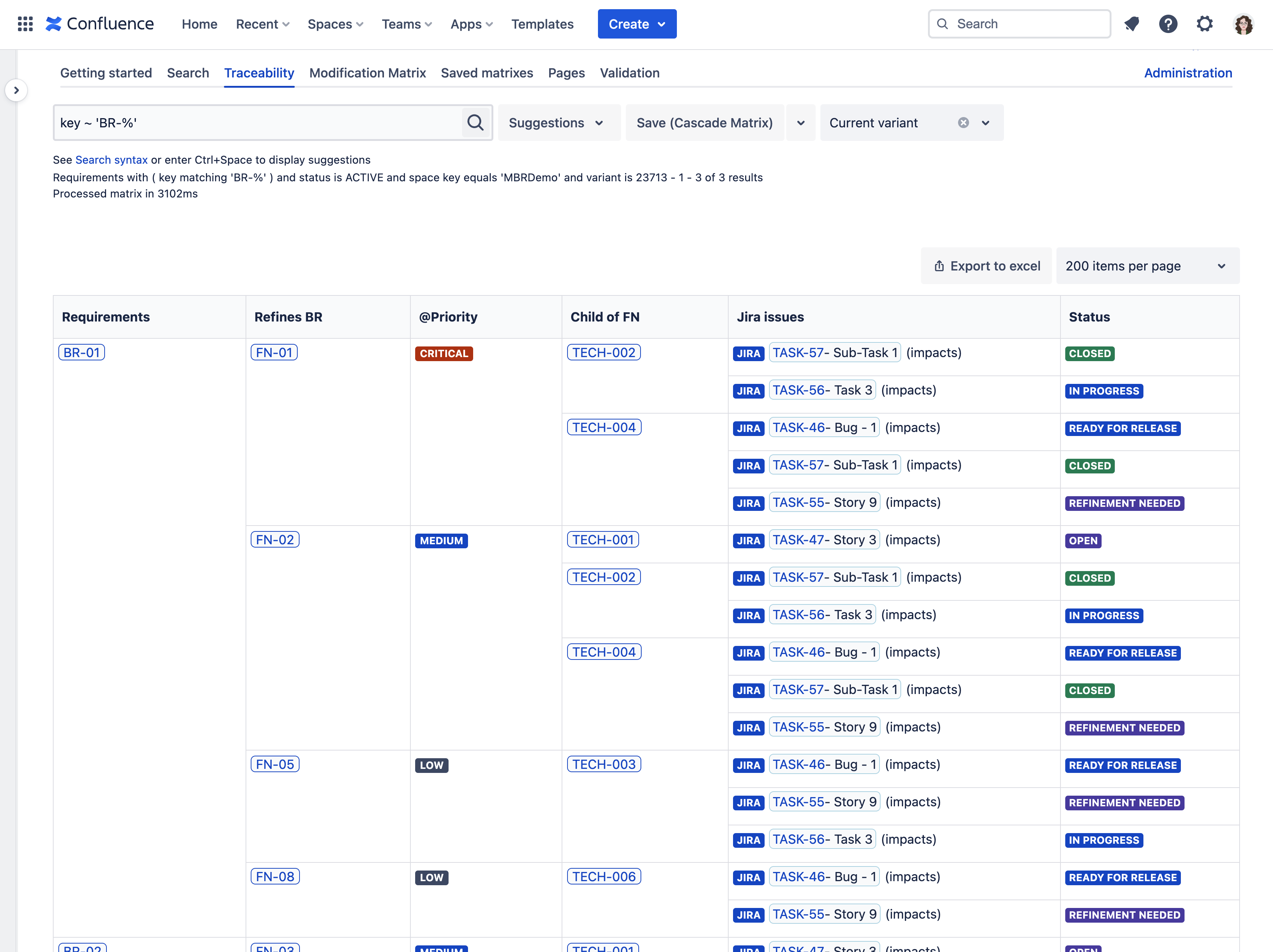 Where to find the RTM?
| | |
| --- | --- |
| On the left side bar, click on Requirements | |
| Start by a search query to filter your matrix and only display a set of requirements: | |
How to add columns
| | |
| --- | --- |
| You can easily add columns to display more details about your requirements. | |
Types of columns
From/To dependencies: Displays the dependencies of each requirement based on a relationship.

From is the equivalent of Child

To is the equivalent of Parent

Jira Issues: If you have installed the app Requirement Yogi for Jira, you will be able to display linked Jira issues and their fields.

Description: Displays the description of each requirement.

Variants: this will display the variant's name in a column

Space key: will display the Space Key

Properties: Displays the property of a requirement.

External properties: You can display them, and edit them with the toggle appearing.

Links: Displays the title and the link to the page where the requirement was quoted.
Exports
You can export your Traceability Matrix to Excel with a simple button (on the top right).

You can also save the matrix and use it in a Confluence page using the RY Report macro.

Note that we do not support images in exports.
A few tips
Remember that you need to be on the correct column to display its data. If you are displaying 3 levels of dependencies and want to add Jira issues from the second level requirements, you will need to go on its column.
We recommend refining your search query to only display the requirements you are interested in.
By default the limit is 200 rows displayed at once, which you can change in the user interface.